Mirror Newspaper Advertisement Details
Circulation over 1m

Mumbai, Pune, Ahmedabad, Bangalore
Credible news source
Low ad rates
Circulation over 1m

Mumbai, Pune, Ahmedabad, Bangalore
Credible news source
Low ad rates
---
SECTIONS
---
Category :
Main Newspaper
Publishing Day :
All Days
Mumbai Mirror is a compact newspaper in the city of Mumbai. Its first issue was published on 30 May 2005 by the Times Group, the publishers of The Times of India newspaper. Book classifieds in Mirror as it has impressive ciruclation figures in Mumbai, Ahmedabad, Bangalore and Pune.
Engage in display advertising in the Mirror-a special initiative for the wild wild west of India covering Maharashtra and its surrounding regions. Get maximum eye-balls and responses for your ad in the Mirror with front, back or third page advertising!!
Category :
Classifieds Supplement
Publishing Day :
All Days
Mirror Classified Ads is cost effective and ideal platform to advertise on for Matrimonial,Property,Obituary, Recruitment, Education,etc type customers. Ad cost is calculated based on the number of lines used.
---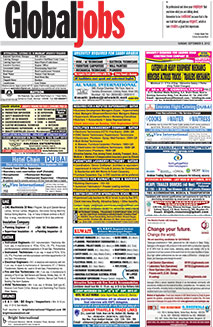 Category :
Appointment
Publishing Day :
Sunday-Wednesday
Global Jobs by Mirror offers a wide range of recruiters from abroad! Don't fall behind in the race of getting excellent candidates from all over the country!!!
---
Category :
Others1
Publishing Day :
Thusday-Friday
Your CV is a great and informative pull out published as a job Guide for Indian job seekers and Recruiters, especially in the across the state of Maharashtra!!! reach out to the best candidates with Your CV!!
---
Category :
Obituary
Publishing Day :
0
---
Category :
Public Notice And Tenders
Publishing Day :
All Days
---
Why advertise in Mirror Display ?
WHY ADVERTISE?
---
Mirror is the leading newspaper of Western India particularly in Mumbai and its' outskirts. The English daily is a part of the Times Group under the publication of Bennet Coleman and Co Ltd and is one of the most popular newspapers in terms of circulation and readership. With releaseMyAd you can book your display ad space in the Mirror instantly, so as to get the optimum exposure. Reach your target audience not only by advertising in the main newspaper but also extending yourself by publishing your display ads in its equally popular supplements.
Global Jobs: With this pullout jobseekers are not limited to any geographical boundaries, but are exposed to a global scenario for jobs. It is best for MNCs seeking candidates from the Indian sub-continent, providing opportunities for Indians seeking jobs abroad
Your CV: Targeted at local job seekers belonging to the western section of the country who intend to avail the exposure maximum job opportunities within the proximity of the state of Maharashtra and surrounding states.
Business by Bids: Meant to target the business officials with the provision of releasing Business ads, Business Notices and even quote tenders for contractors.
Obituary and Personal: This is primarily a separate section in the main newspaper to publish the messages of condolences and love for their lost near and dear ones, along with other personal advertisements.
Releasing your display ads has been simplified with releaseMyAd. Just follow a few simple steps in order to book your ads online-Choose the preferred supplement, confirm the location and ad size, compose or upload your ad, confirm the release dates and make the payment for the same through the online or offline payment modes, as per your convenience.
Mirror Display Ad Booking Process
BOOKING PROCESS
---